Sensorineural Hearing Loss

Sensorineural Hearing Loss (also known as sensorineural deafness) is a type of hearing loss that occurs from damage to the inner ear. Sensorineural hearing loss occurs when tiny hair cells in the inner ear get damaged. Unfortunately, any age group can be affected by sensorial hearing loss depending on the cause.
Soft sounds may be difficult to hear, even lounder sounds may be unclear or become muffled such as conversations.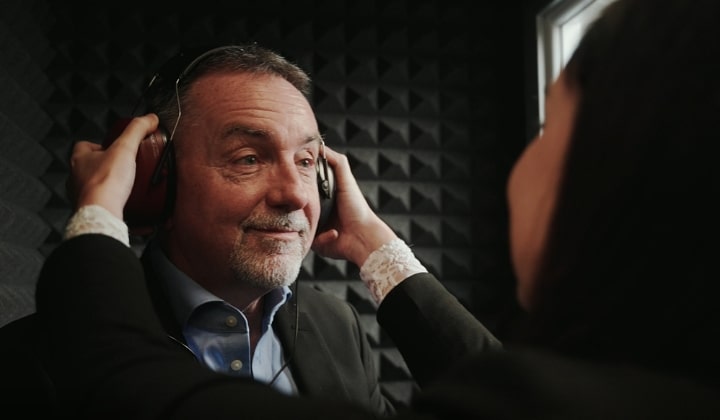 Causes Of Sensorineural Hearing Loss

Age-related hearing Loss (Presbycusis): Often the most common cause of hearing loss. As we age, the tiny hair cells that transmit sound become fragile and break, this inhibits our ability to understand sounds.
A blow to the head

Physical impact or blow to the head can cause damage to the auditory pathway. The inner ear is so sensitive that damage can often occur from a collision or concussion. 
Toxicity
Unfortunately, some medications can have side effects, leading to hearing loss. Medically, this is referred to as toxicity.
Acoustic Neuroma
A growth or benign tumour in the inner ear can cause damage to the critical nerves in the auditory pathway.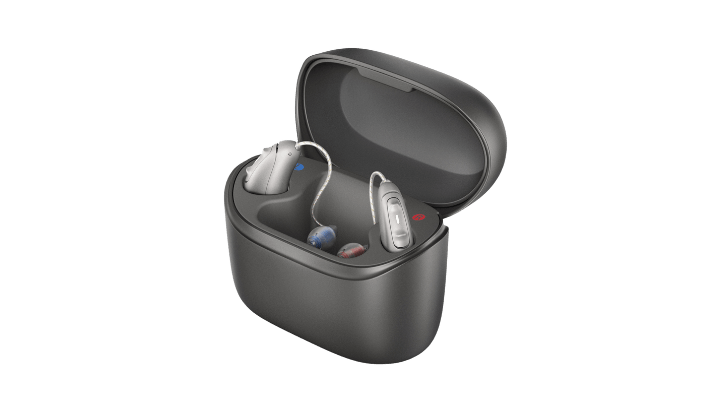 How can Sensorineural Hearing Loss be diagnosed?

An Audiologist can provide you with an accurate diagnosis of your hearing. On completion of a hearing test, your Audiologist will review your Audiogram (graph output of your hearing test). 
The graph will illustrate to the Audiologist if hearing loss is present & which type (sensorineural, conductive & mixed hearing loss)
Is Sensorineural Hearing Loss Permanent?

In most cases, sensorineural hearing loss is permanent. Once the hair cells of the inner ear are damaged, they can not be repaired. Hearing aids are one of the most influential and viable solutions for hearing loss. Once an Audiologist has diagnosed that hearing loss is present, hearing aids can be programmed to meet your specific needs.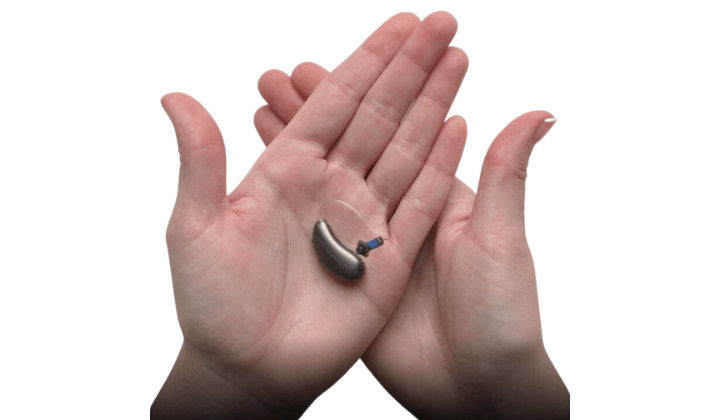 Find a clinic near you

Book your free hearing test with our fully Qualified Audiologists.
Search by county
Distance
Athlone

Athlone Opticians

Unit 3B
Avondale Neighbourhood Centre
Ballymahon Road
Athlone
Westmeath
N37 R9W4

Visit Clinic Page

Ballincollig

Tesco Superstore Ballincollig

Tesco Superstore,
Ballincollig Shopping Centre,
Ballincollig,
Co. Cork
P31 F652

Visit Clinic Page

Birr

Smith & O'Mahony Eyecare

O'Connell St
Townparks
Birr
Co. Offaly
R42 TW93

Visit Clinic Page

Cahir

Durkan Opticians

Durkan Opticians,
The Square,
Cahir,
Co Tipperary
E21 YH10

Visit Clinic Page

Carlow

Blackberry Hearing Carlow

McCauley Pharmacy,
Fairgreen Shopping Centre,
Barrack Street,
Carlow,
R93 H2C7

Visit Clinic Page

Carrick On-Shannon

The Hive

Castlecara Road
Attifinlay
Carrick On-Shannon
Co. Leitrim
N41 FD83

Visit Clinic Page

Castlebar

Mayo Podiatry Clinic

Upper Chapel Street
Garryduff
Castlebar
Co. Mayo
F23 KV57

Visit Clinic Page

Cavan

Cavan Physiotherapy Clinic

Loreto Road
Carrickane
Co. Cavan
H12 RY65

Visit Clinic Page

Celbridge

Orchard Medical Center

Supervalu Shopping Centre
Dublin Road
Celbridge
Kildare
W23 TV7X

Visit Clinic Page

Charleville

Specs of Charleville

Specs of Charleville Opticians,
Unit 5 Park View,
Charleville,
Co. Cork

Visit Clinic Page

Churchtown

Blackberry Hearing Churchtown

1st Floor,
3, Landscape Road,
Churchtown,
Dublin 14
D14WC65

Visit Clinic Page

Clifden

Clifden Opticians

Clifden Opticians
Clifden Court
Bridge Street
Clifden
Co. Galway
H71HW96

Visit Clinic Page

Clonmel

Ashleigh Milne Podiatry

Market House
4 Market Street
Oldbridge
Clonmel
Co. Tipperary
E91 R1W8

Visit Clinic Page

Donaghmede

Dr. Ibrahim Family Practice

Grange
52 Ardra Avenue
The Donahies
Donaghmede
Dublin 13
D13 RK03

Visit Clinic Page

Douglas

McCauley Pharmacy Douglas

McCauley Pharmacy,
Unit 2a,
Douglas Court Shopping Centre,
Douglas,
Cork,
T12 RV04


Visit Clinic Page

Enfield

Enfield Opticians

The Market Yard
2 Main Street
Johnstown
Enfield
Co. Meath
A83 YY19

Visit Clinic Page

Ennis

Riverwalk Medical Centre

River Walk Medical Centre,
Parnell St, Clonroad Beg,
Ennis,
Co. Clare,
V95 WFD7

Visit Clinic Page

Enniscorthy

McCauley Garahys Pharmacy

McCauley Pharmacy, 
6 Slaney Street,
Enniscorthy,
Co. Wexford,
Y21 KR23

Visit Clinic Page

Galway

Galway Primary Care

Ballybane Road
Galway
Co. Galway
H91XE27

Visit Clinic Page

Galway

Helen Walsh Opticians

Helen Walsh Opticians,
Middle Street Court,
4 Middle St,
Galway,
H91 ET8R


Visit Clinic Page

Gorey

Physio Solutions

Hillcrest
Fort Road
Co. Wexford
Y25 XK12

Visit Clinic Page

Gort

Gort Medical Centre

Gort Medical Centre
Bridge St,
Gort,
Co. Galway,
H91 CHX5

Visit Clinic Page

Greystones

Greystones Eye Centre

Church Road
Rathdown Lower
Greystones
Co. Wicklow
A63 V6W7

Visit Clinic Page

Kilkenny

Infocus Opticians

Infocus Opticans
41 St Kieran's St, Gardens,
Kilkenny
Co.Kilkenny

Visit Clinic Page

Killarney

Urban Optics

Scott Street
Killarney
Co. Kerry
V93 R289

Visit Clinic Page

Letterkenny

Louis Walsh Opticians

Louis Walsh Opticians,
Unit 13,
Courtyard Shopping Centre,
Letterkenny,
Co. Donegal
F92 EFP6

Visit Clinic Page

Limerick

Ashdown Medical Centre

Ashdown Centre
Courtbrack Ave
South Circular Road
Limerick
Co. Limerick
W91 E377

Visit Clinic Page

Listowel

Listowel Physiotherapy Clinic

97 Church Street
Listowel
Co. Kerry
V31 TP83

Visit Clinic Page

Longford

Blackberry Hearing Longford

Camlin Medical Practice,
1, College Park,
Co. Longford,
N39Y6C9

Visit Clinic Page

Mallow

Blackberry Hearing Mallow

Blackberry Hearing Mallow
Fairgreen
Co.Cork
P51Y72Y




Visit Clinic Page

Midleton

A O'Connor Opticians

A O'Connor Opticians Midleton,
Main Street,
Midleton,
Co. Cork

Visit Clinic Page

Moycullen

Moycullen Primary Care Centre

Ballycuirke West,
Moycullen,
Co. Galway
H91 DWY4

Visit Clinic Page

Mullingar

Whelehan's Pharmacy

Pearse St
Mullingar
Co. Westmeath
N91 H566

Visit Clinic Page

Naas

Tesco Extra Naas

Tesco Extra,
Monread Road,
Monread North,
Naas,
Co. Kildare

Visit Clinic Page

Navan

Blackberry Hearing Navan

McCauley Pharmacy
Navan Shopping Centre,
Kennedy Road,
Navan,
Co Meath,
C15 YX65

Visit Clinic Page

Nenagh

Dr.Brian Kennedy GP Practice

Clareen House
Tyone
Nenagh
Tipperary
E45 WF63

Visit Clinic Page

Northwood

Blackberry Hearing Northwood

Blackberry Hearing,
Block A, Unit 2,
Blackwood Court,
Northwood Avenue,
Santry,
Dublin 9
D09 N97V

Visit Clinic Page

Portlaoise

Infocus Opticians

53 Main St,
Kylekiproe,
Portlaoise,
Co. Laois
R32 RP2C

Visit Clinic Page

Raheny

Raheny Optics

Skillings House
Raheny Shopping Centre
Howth Road
Dublin 5
D05 R2N2

Visit Clinic Page

Roscommon

Roscommon Family Care Practice

The Courthouse,
Cherry Side Business Centre,
Castle St, Cloonbrackna,
Co Roscommon

Visit Clinic Page

Roscommon

Kearney's Chemist

Kearney's Chemist
The Square,
Castlereagh,
Co. Roscommon
F45K4A8

Visit Clinic Page

Shankill

Rathmichael Clinic

Old Bray Road Shankill,
Dublin 18,
D18 DK65

Visit Clinic Page

Sligo

Sweeney's Opticians

Shell House
Wine Street
Abbeyquarter North
Sligo
D24 P2TY

Visit Clinic Page

Tipperary

Eyesight Opticians

48 Main Street
Tipperary Town
Tipperary
E34 YV90

Visit Clinic Page

Tralee

Tralee Medical Centre

St Brendan's Park
Monavally
Tralee
Co. Kerry
V92 D96H

Visit Clinic Page

Tullamore

Physio Tullamore

Church View
Tullamore
Co. Offaly
R35 K1W4

Visit Clinic Page

Two Mile House

Blackberry Hearing HQ

The Village Centre
Two Mile House
Naas
Co.Kildare
W91 E377

Visit Clinic Page

Waterford

Waterford Medical Centre

Kilbarry Shopping Centre,
Tramore Road,
Waterford

Visit Clinic Page

Westport

Eye World Opticians

Market Lane
Bridge Street
Westport
Mayo
F28 AX75

Visit Clinic Page

Wexford

Whitemill Medical Centre

Neighbourhood
1 Lidl
White Mill Rd
Wexford
Co. Wexford
Y35 X0WX

Visit Clinic Page

Book a home visit

Our Audiologist can come to your home if you are unable to attend a clinic. This service is available free of charge.

Book Home Visit
Show all locations